Dark Skies Initiative
Published on January 12, 2023 by Eileen Samberg
Light pollution is an ever growing problem as land is continuously developed. Without an eye towards the future, open land conservation, and responsible lighting choices, we'll lose what little we have left on the planet for truly dark skies.
Visit our page under Resources to learn about the Dark Skies initiative in Southborough.
Daisy Scouts Perform Trail Work at Clark Grove
Published on January 3, 2023 by Eileen Samberg
Recently Daisy Scout Troop #64042 did some trail work at SOLF's little "Clark Grove" property on Highland St. They even cleaned our sign! We love that we've been able to create a small trail for a neighborhood to enjoy. Thank you troop #64042 and leader Phaea Crede !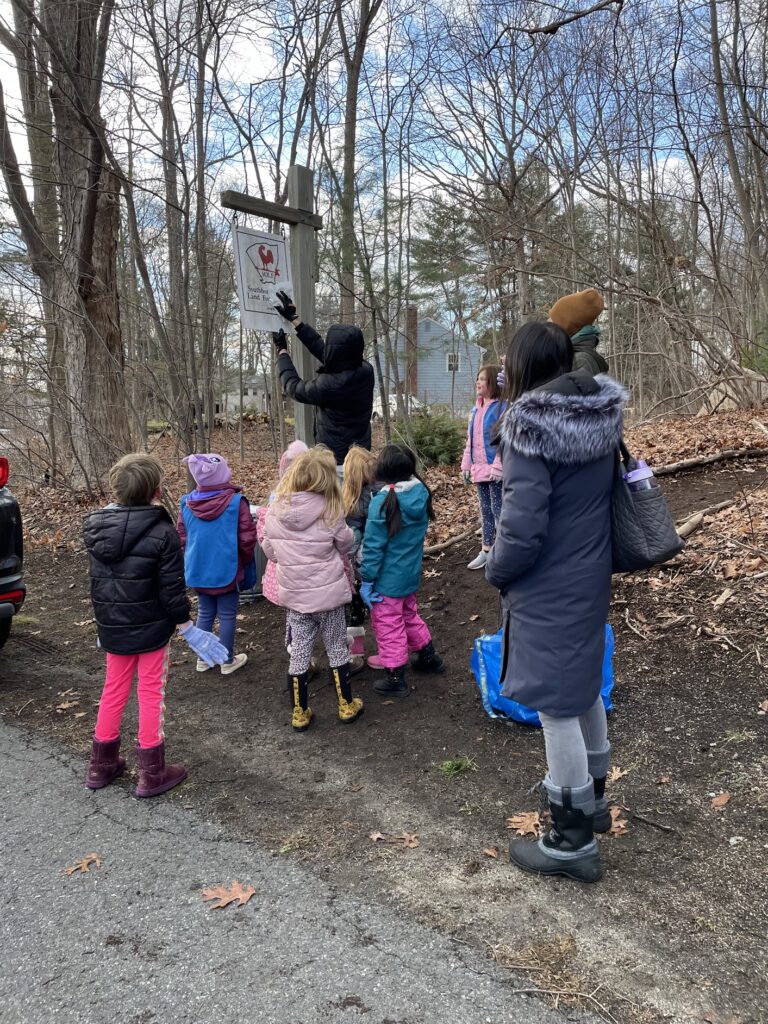 SWCA Environmental Consultants Volunteer at Bigelow Wildlife Refuge
Published on November 28, 2022 by Eileen Samberg
On Monday, November 28, eight employees from the SWCA Environmental Consultants office in Southborough volunteered at Bigelow Wildlife Refuge, spreading wood chips and pulling invasive honeysuckle. Thank you, Ariel and group for thinking of us!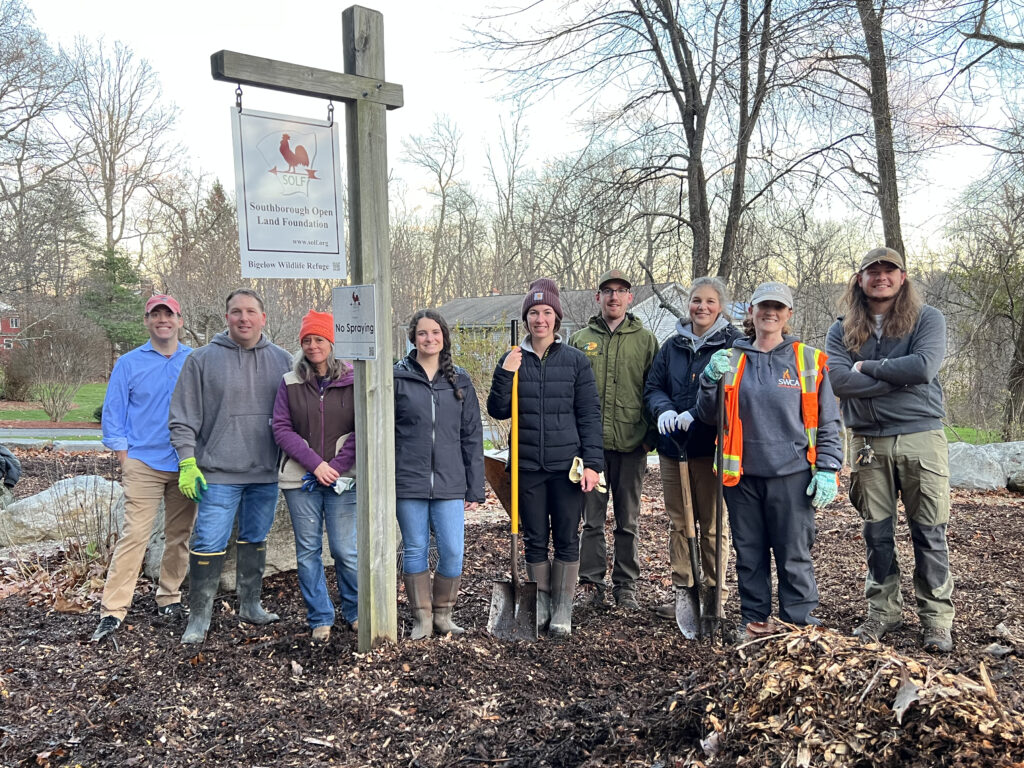 Cub Scout Pack 1 Service Projects at Beals Preserve and Templeman
Published on November 20, 2022 by Eileen Samberg
On Sunday, November 20, Cub Scout Pack 1 learned about and practiced trail maintenance at two of our properties, Beals Preserve and Templeman Woods.
The older Cub Scouts and their parents worked with Board members Brett Peters and Larry Samberg at Templeman Woods-Watkins Woods off Rt. 85 by the Mass Pike overpass. With some hard work, they improved trail conditions through addition of new trail markers, clearing limbs and other trail blockages, enhancing trail sight lines, and cleaning up trash and litter from the area. Big thanks to the Scouts and parents who stepped up to help out!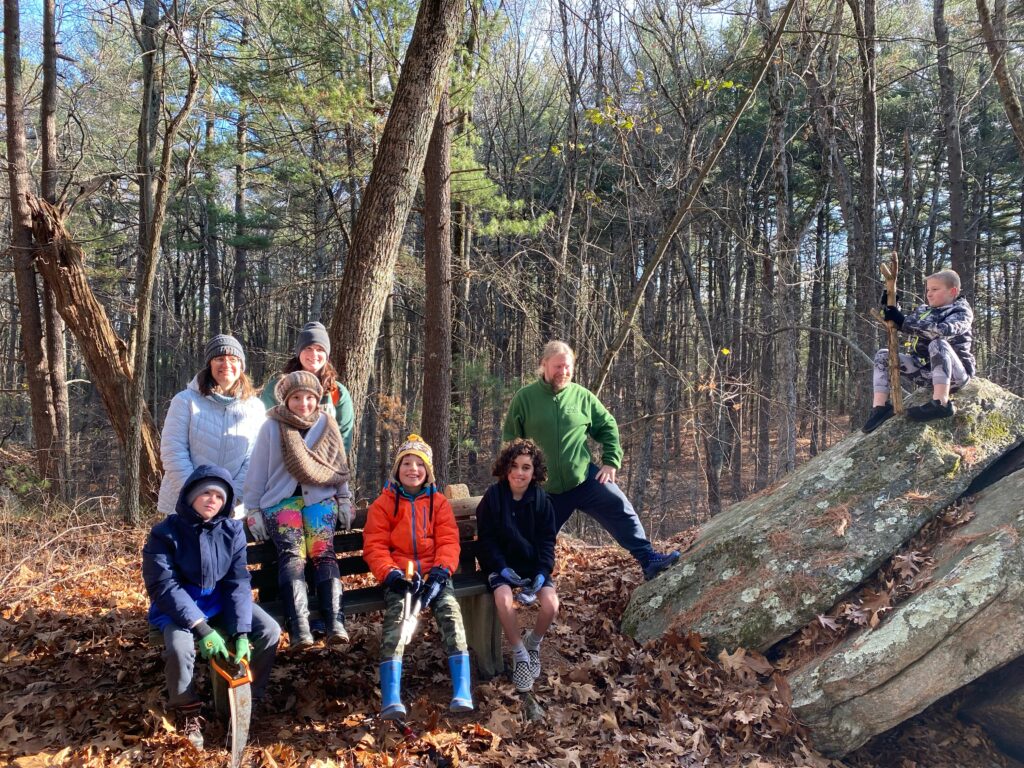 The younger Cub Scouts and their parents worked with Board members Whit Beals, Debbie Costine, Lawrence Spezzano, and Eileen Samberg at Beals Preserve, starting at the Red Gate entrance. The Scouts learned about the importance of water bars to channel water off the trail, and helped clear them. Then the group walked down the trail to the Riding Ring junction, where they learned about invasives, pulled bittersweet and small buckthorn and burning bush saplings, watched and helped Whit Beals use a "puller bear" to pull larger buckthorn and burning bush saplings out by their roots. Big thanks to the Scouts and parents!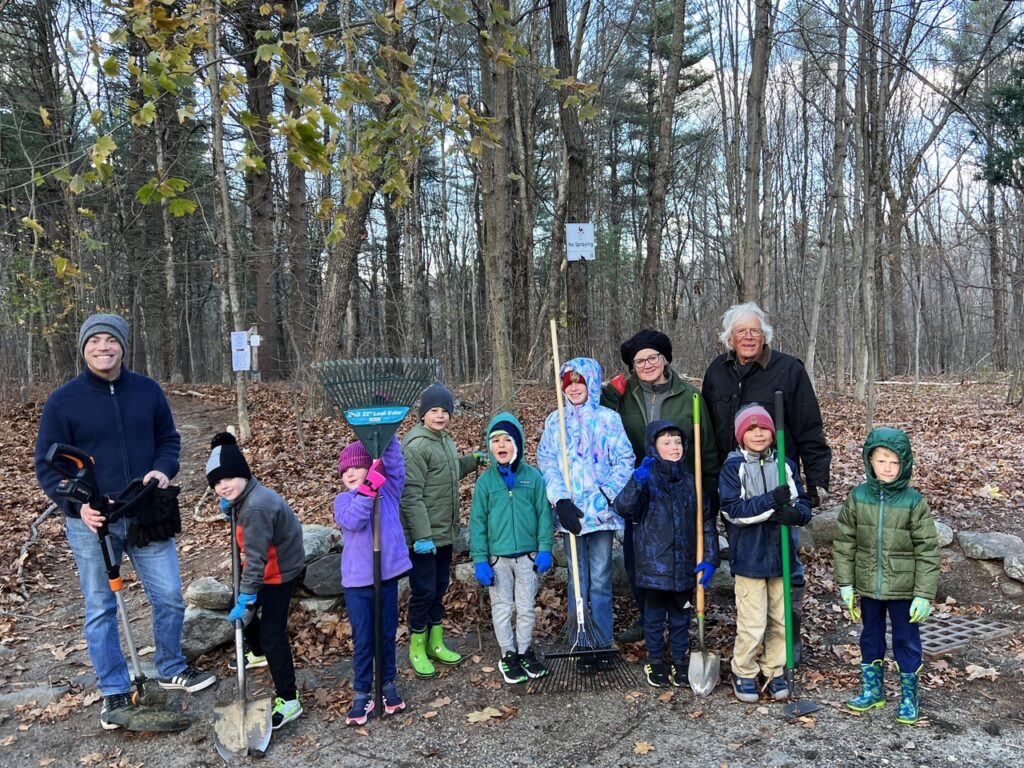 History Walk by Whit Beals on October 16, 2022
Published on October 19, 2022 by Eileen Samberg
Whitney Beals, president of the Southborough Open Land Foundation (SOLF), led a group of about sixteen on a history walk at the Elaine and Philip Beals Preserve on Sunday, October 16 , 2022.
In the 1950s, Whit's family purchased land on both Chestnut Hill north of route 30 and what is now the Beals Preserve south of route 30. You can read his entertaining and educational talk, describing the land purchase, the conservation restrictions to save the land from development, the history of the ice pond, and plans to maintain the trails, the forest, and the meadows.
You can read a transcript of his talk here.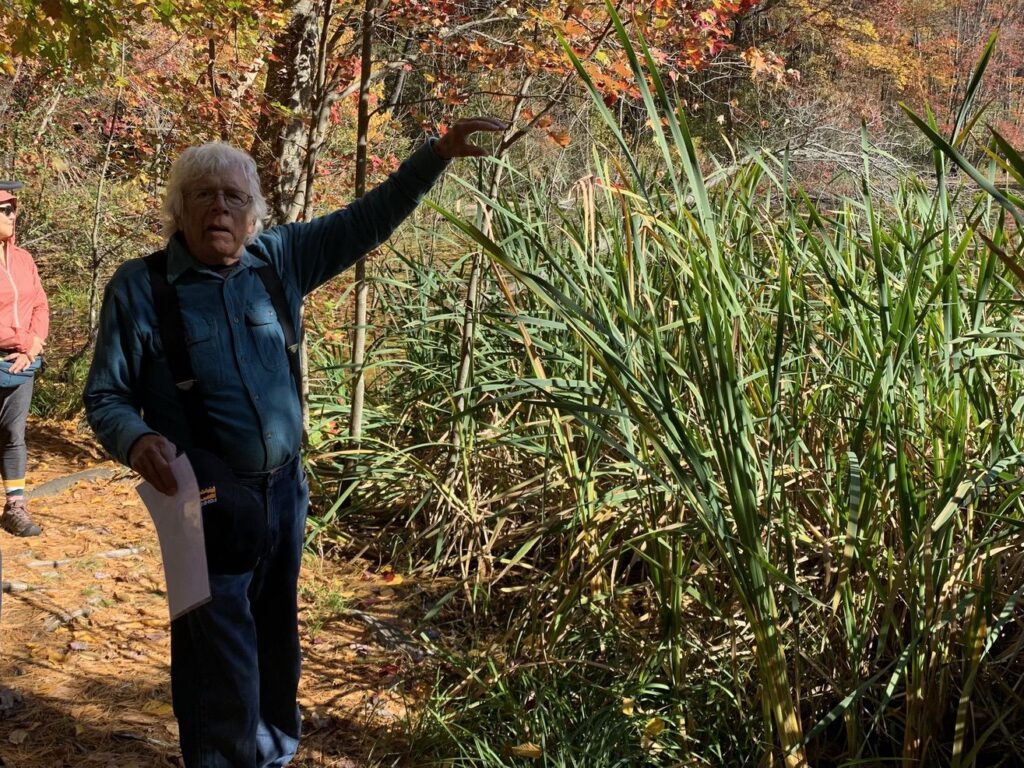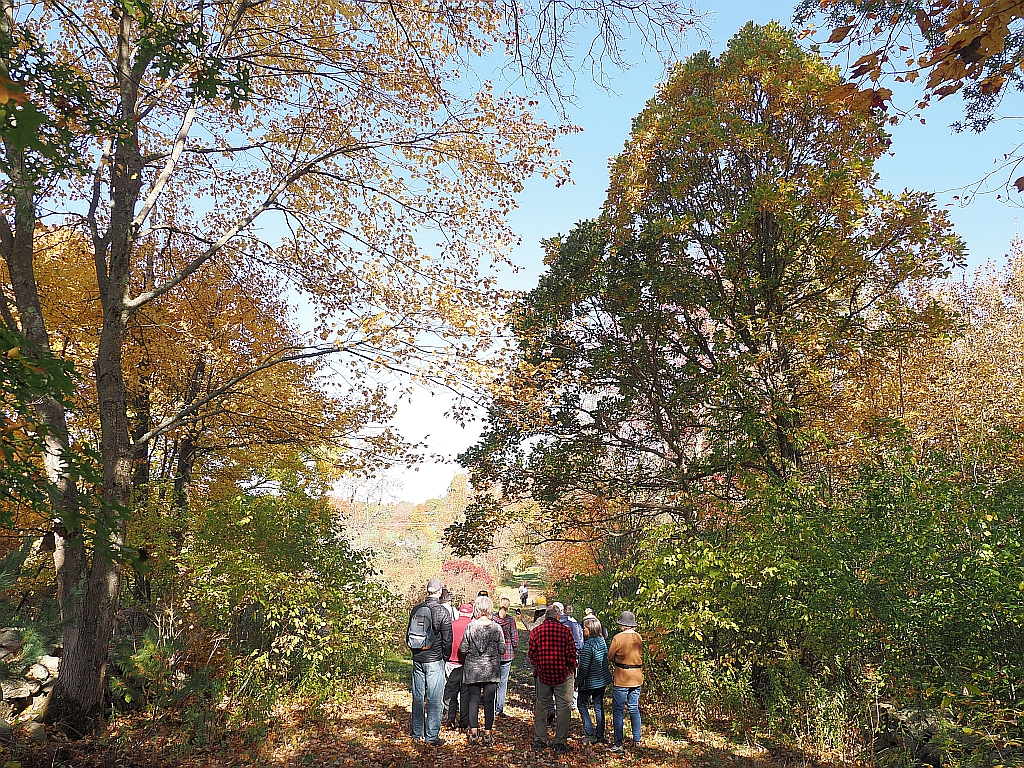 Beals Preserve Main Street Field Parking Area
Published on September 25, 2022 by Eileen Samberg
We are happy to announce that there is now a small parking area at the Beals Preserve Main Street Field on Route 30. The entrance to the parking area is on the south side of Main Street, between two stone pillars, east of Northborough Road and west of Chestnut Hill Road. Pull into the fenced area (it is currently grass, but will likely be layered with wood chips), and park perpendicular to the road at the stone wall, to the right of the sign post. Walk down the field through the opening in the fence to the lane and then across the bridge over the Wachusett channel.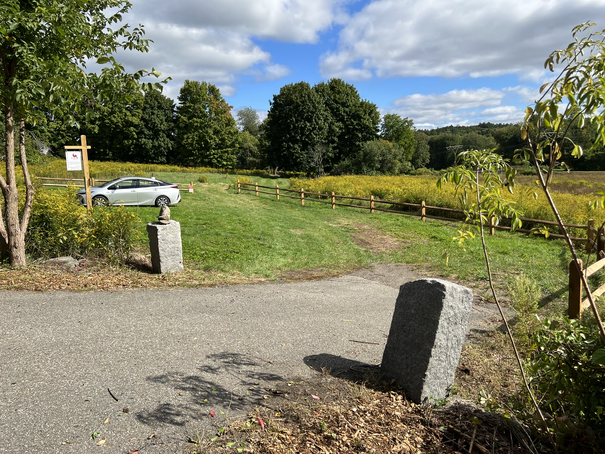 Bigelow Wildlife Refuge Progress Report – September 2022
Published on September 11, 2022 by Eileen Samberg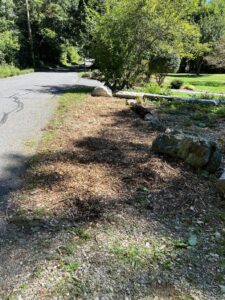 As of August 2022, there is now just off-road parallel parking available for one or two cars on a cleared wood-chip area. Please do not park on Bigelow Road as it has no shoulder and parking is not allowed in the turn-around at the end of Bigelow Road. (Alternatively, visitors can drive to Walker Street in Westborough and park at the SVT Sawink Farm parking lot. From the lot, it's a 1400-foot walk along the old farm road to Bigelow Road and the entrance to Bigelow Wildlife Refuge.)
One of the challenges at Bigelow Wildlife Refuge is control of knotweed, primarily at the front of the property. Another is maintaining the trail to the viewing platform. Trustee Lawrence Spezzano has been instrumental in overseeing and organizing work projects. In the spring of 2022, Lawrence laid down wire mesh to slow the growth of knotweed and over time may stop the growth. In July 2022, a work party — Lawrence Spezzano, Whit Beals, Larry Samberg, Eileen Samberg, Kathryn Korostoff — weeded the front and the path, and spread a thick layer of wood chips.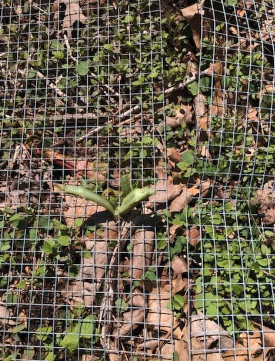 Pollination Preservation Garden Planting at Beals Preserve – September 2022
Published on July 30, 2022 by Eileen Samberg
Freddie Gillespie, chair of the Southborough Open Space Preservation Commission, has been recruiting volunteers to install a Pollination Preservation Garden at SOLF's Beals Preserve. Preliminary work was done last summer and fall. After poison ivy control work and garden prep in June, volunteers did a major planting on July 16–17.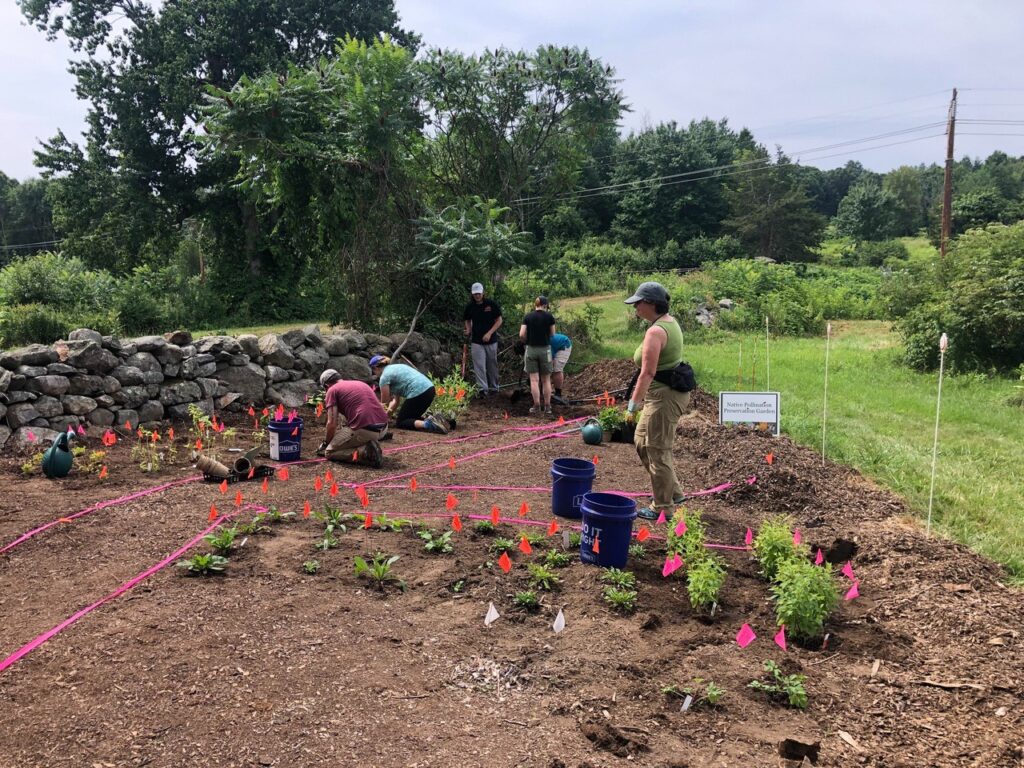 Volunteers did another major planting on Saturday, July 23, in spite of the heat wave. Volunteers, including SOLF Board Members Sally Watters, Debbie Costine, Larry Samberg, Eileen Samberg, and SOLF volunteers Brett Peters and Kathryn Korostoff, started early at 8 am and worked to almost 12 noon. Great job, everyone!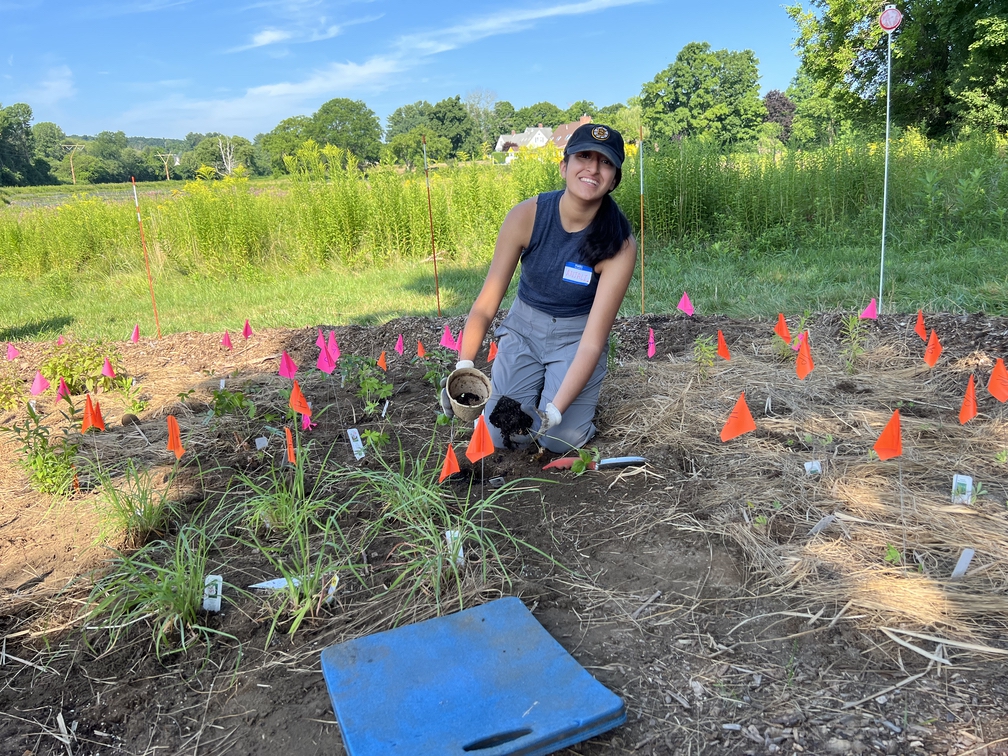 Volunteers worked again on Saturday, July 30, taking the project close to completion. And more work was done on Saturday, August 6.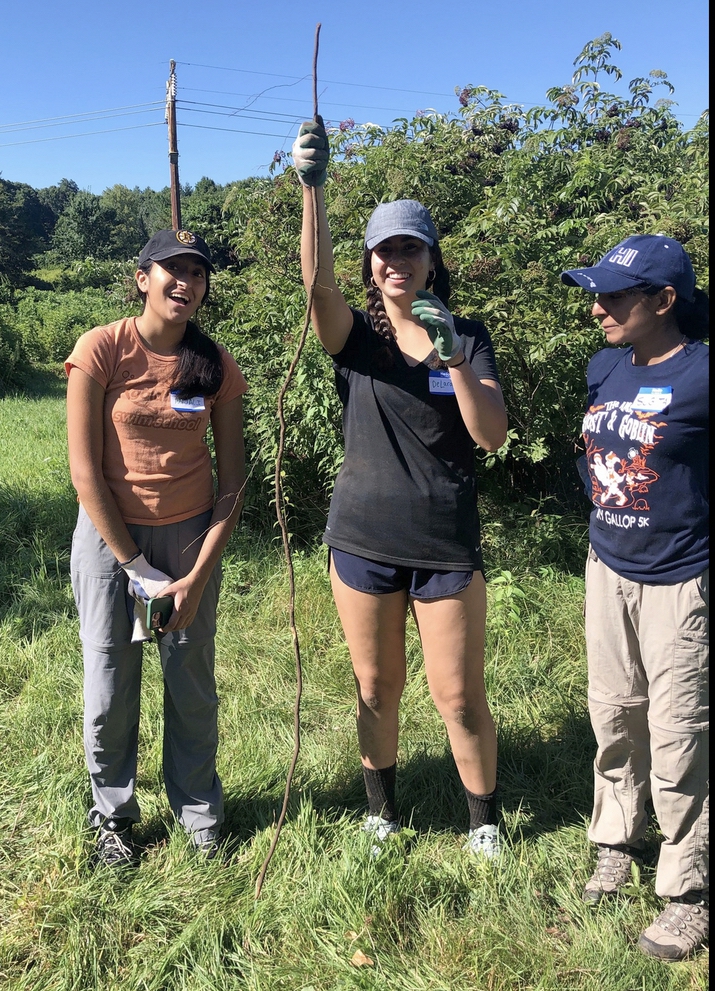 The Pollination Preservation Garden is getting a lot of love from Freddie Gillespie and her volunteers. Here is how it looks on September 14, 2022.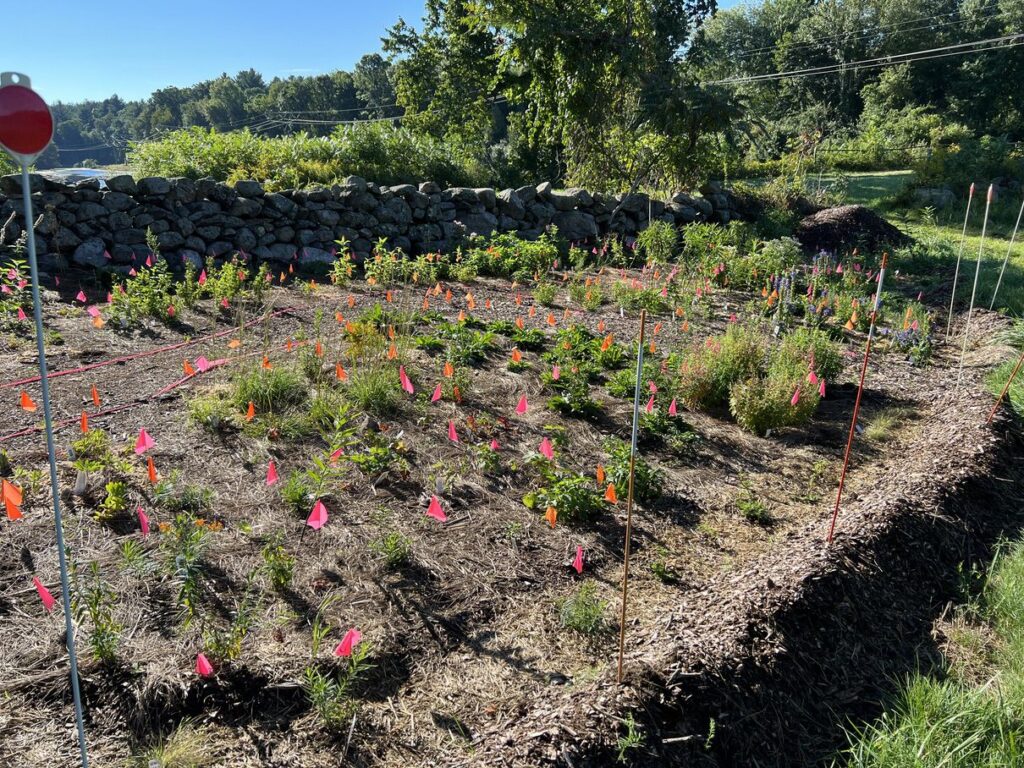 Guide to Invasive Plants
Published on June 5, 2022 by Eileen Samberg
The Department of Conservation and Recreation (DCR) has published a 25-page pictorial guide to Invasive Plants. You can view the guide on our Resources page.
Review of SOLF 2022 Annual Meeting
Published on May 28, 2022 by Eileen Samberg
The Southborough Open Land Foundation had its Annual Meeting on May 18, 2022 at the Southborough Community House. The evening started with a wine and cheese reception followed by a welcome by Vice President Debbie Costine. Debbie gave an overview of SOLF and its relationship to the town, explaining that SOLF is a private non-profit tax-exempt organization, and that the land, including Beals Preserve, is the private property of SOLF, and that the land is open to the public.
President Whitney Beals then gave a review of the activities and accomplishments over the past year, pointing out that we are the stewards of our 15 properties, with Beals Preserve our hallmark parcel. Debbie Costine has been spearheading Saturday work crews at Beals Preserve, clearing along the main lane, controlling the invasive and highlighting native trees and shrubs. Kat McKee, chair of the Southborough Trails Committee, and scouts from Troop 92 worked on maintaining the joint trail systems at Templeman Woods, a SOLF property and Watkins Woods, a town property. At Bigelow Wildlife Refuge, Eagle Scout Robby Stewart, with oversight by trustee Lawrence Spezzano, built a path and a viewing platform, and Lawrence has been working on knotweed control using fine wire mesh.
We lost Linda Hubley, a dear friend, in 2021. The Southborough Scholarship Committee started the Linda Hubley Memorial Scholarship Fund for students with a strong interest in environmental studies. Linda worked on environmental causes, volunteered in schools, was an election worker, started the first online newspaper in Southborough. She was awarded the Elaine Beals Conservation Award in 2010. SOLF issued a challenge to match $1000. We received $1600 in donations for the scholarship fund, making a total of $2600. Skip Hubley and two representatives of the Scholarship Fund (Kathleen Kuklewicz and Alexandra Mills) accepted the donation from VP Debbie Costine.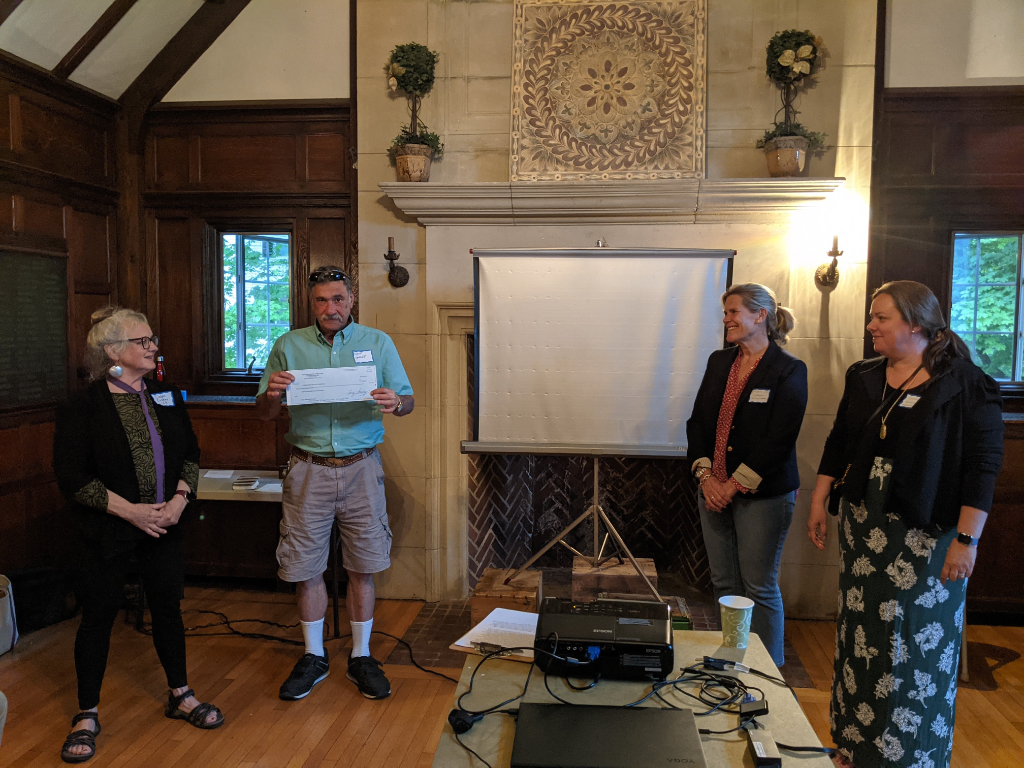 Whit Beals then presented the Elaine Beals Conservation Award 2022 to Jim Gorss. Jim lived close to Breakneck Hill, a town property. He was responsible for much of the look and accessibility of the property that we enjoy today. He was on and chaired the Stewardship committee. He also installed fencing at the Beecology Garden. Congratulations to Jim for this well-earned award.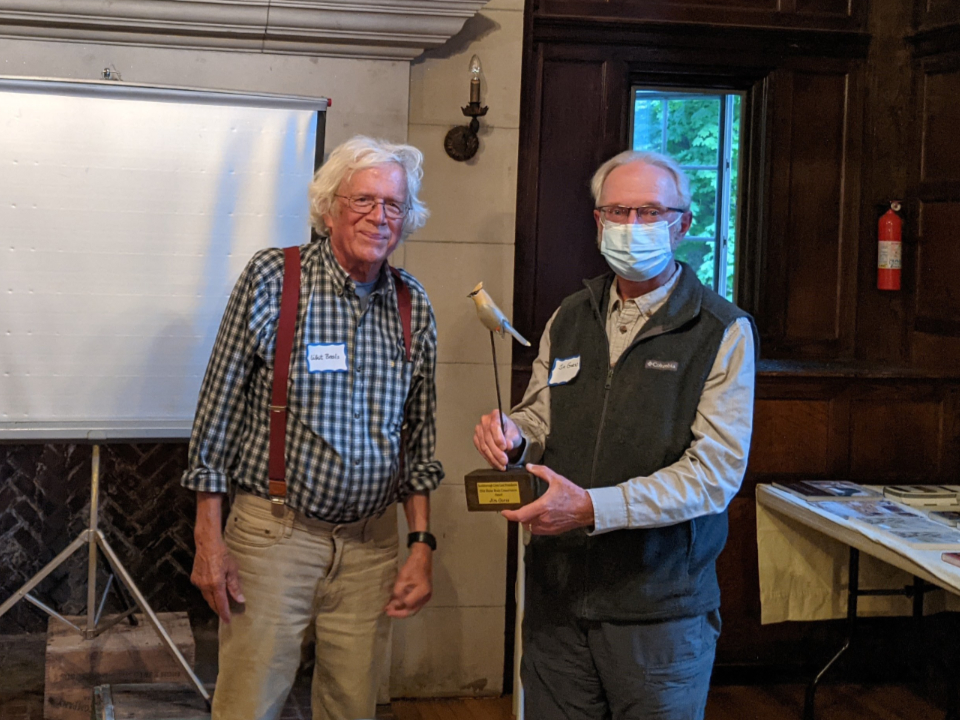 Debbie Costine Introduced Peter Alden, our speaker for the evening. Peter gave a highly informative and entertaining presentation on perspectives on changing wildlife populations in New England since the time of Henry David Thoreau; new arrivals like the cardinal and moose and those no longer seen like the ruffed grouse.