Animal Tracking, February 23, 2013
Published on February 24, 2013 by Eileen Samberg
Animal tracking expert David Brown led a group at Beals Preserve to identify animal tracks in the snow. Evidence was found of coyotes, cottontail rabbits, gray squirrels, raccoon, mink,fishers, and other animals. The pictures below show David Brown and the group participants.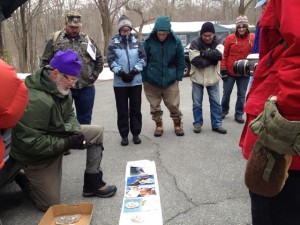 David Brown has shared with us his  The Companion Guide to Trackards for North American Mammals has just been released for sale by the publisher. The 245-page guide interprets illustrations on the Trackards while providing additional illustrations and detailed information on track and scat morphology, trails, behavior and habitat. Each species-chapter also provides comparisons with the similar sign of other species and shows how to tell them apart. The two publications were designed as a single integrated system for successful identification of wildlife evidence found in the field.
For a limited time the
Companion Guide
is being offered by the publisher, McDonald & Woodward, at a very attractive introductory discount. If ordered directly from the publisher's website, it can be purchased at 30% off the cover price. If the
Trackards
are ordered at the same time, the discount can be extended to both. For details please see the publisher's website is
http://mwpubco.com/
.
Visit David Brown's website: http://www.dbwildlife.com