Art on the Trails 2020: Rising Up. Beals Preserve
Published on April 29, 2021 by Hal
Due to the COVID-19 pandemic, there will be no opening reception this year. Instead, there will be live streaming of the installation process on June 17 & June 8. Click here for the latest updates.
In Search of Mongolian Wolverines: Rebecca Watters, January 9, 2020
Published on December 6, 2019 by Hal
The Southborough Open Land Foundation (SOLF) invites you to a presentation by Rebecca Watters about a 350 mile cross country ski trek through the Altai Mountains of Mongolia in search of evidence of wolverines and other wildlife. Rebecca will also talk about wolverine/wildlife research in the United States. Rebecca is a graduate of Algonquin Regional High School, St. Lawrence University, and Yale University. She is Executive Director of the Wolverine Foundation and works with Round River Conservation Studies directing a student study abroad program in Mongolia where she works closely with the National Parks administration.
7:00 PM, Thursday, January 9, 2020
Southborough Library, 25 Main Street, Southborough, MA
The program is free and open to all. No registration is required.
2019 Annual Meeting, May 4, 2019
Published on May 7, 2019 by Hal
SOLF held its annual meeting Saturday May 4,  at the historic 1812 Deacon Webster Johnston House, 49 Lynbrook Road, Southborough, MA, home of the L'Abri Fellowship, donors to SOLF of a 5.5 acre parcel of land across from their historic home. The meeting began with a welcome by Ben Keyes of L'Abri Fellowship followed by walk  to the little brook on our newly acquired land and an unveiling of the sign identifying the new land. The meeting continued with the presentation of SOLF's Annual Elaine Beals Conservation Award to Beth Rosenblum, recently retired Conservation Agent for the Town of Southborough. SOLF President Whit Beals presented Beth with a carving of a Barn Swallow done by Southborough artist Ben Keyes.
The meeting continued with a tour of the historic house, a summary of SOLF's 30 years of land protection and a wine and cheese social hour.
Our Endangered Trees: Asian Longhorned Beetle, Spotted Lanternfly, and Emerald Ash Borer
Published on March 17, 2019 by Hal
On Thursday April 4, 2019, the Southborough Open Land Foundation sponsor4d a presentation by Joshua Bruckner on Invasive Insects Threatening Massachusetts Trees. The talk focused on the Asian Longhorned Beetle, the Spotted Lanternfly, and the Emerald Ash Borer, The Asian Longhorned Beetle is responsible for the destruction of over 36,000 trees in Worcester over the last 10 years and poses a continuing threat to trees of our area. The Spotted Lanternfly, a sap-feeding invasive insect from Asia, poses a threat to 70 different plants and crops, including apples, grapes, and hops.
The Emerald Ash Borer is an emerging threat to the ash trees of New England. The presentation covered what is being done to combat these invasives, how to identify the insects and their damage, and how to report any sightings.
Joshua Bruckner is the Asian Longhorned Beetle outreach coordinator at the Massachusetts Department of Agricultural Resources. He works to spread information and awareness about the Asian Longhorned Beetle and other invasive insects in Massachusetts. He has a masters and bachelor's degree in environmental science from Clark University.
Southborough Community Fund Grant for Art on the Trails 2020
Published on January 18, 2019 by Hal
The
Southborough Community Fund
  has again awarded a $5000 grant to the Southborough Open Land Foundation to fund the annual
Art on the Trails Program 2020
to be held at the
Elaine and Philip Beals Preserve
. The program includes a juried exhibition of artwork on the trails,  poetry submissions that respond to the art, a published catalog/poetry chapbook, an opening and closing event, and ongoing walking tours. The award was presented to SOLF Trustees Sally Watters and Deborah Costine, and Art on the Trails Founder and Director Catherine Weber by SCF Community Board members Betsey Crowley and Cathy Kea at a November 2019 ceremony at the Southborough Community House.
Carl Guyer Receives 2018 Elaine Beals Award
Published on January 10, 2019 by Hal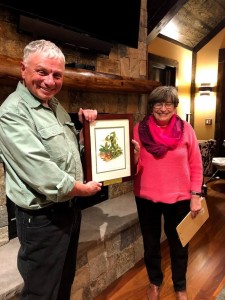 Carl Guyer, at a December 12, 2018  SOLF meeting, receives the annual Elaine Beals award from trustee Sally Watters for his leadership in environmental conservation and awareness.  Elaine Beals was among the founding members of the Southborough Open Land Foundation. She served on the Board of Trustees of SOLF for many years. She was dedicated to the preservation of the environment and open space, reinforcing her conservation ethic as a member of the Town of Southborough's Open Space Preservation Commission. In her honor, SOLF presents the Elaine Beals Conservation Award each year to a local resident who has shown outstanding leadership in environmental conservation.
September 15, 2018, Birds of Prey with Tom Ricardi
Published on September 23, 2018 by Hal
The Southborough Open Land Foundation (SOLF) presented Tom Ricardi, founder and operator of the Massachusetts Birds of Prey Rehabilitation Facility in Conway, MA, with a program on Birds of Prey at the Southborough Library, September 15, 2018, at 2:00 PM. A large number of children and adults were in attendance to see the variety of birds Tom presented.
You can watch a video of Tom's presentation here.
May 12, 2018, Bird Walk at Breakneck Hill Conservation Land
Published on May 16, 2018 by Hal
On a damp and cool Saturday morning,  Jeff Collins, Director of Mass Audubon's Ecological Management Department  led a group of 16 participants on a "Bird-a-thon" day bird walk  at the Breakneck Hill Conservation Land, on Breakneck Hill Road, Southborough.  Altogether, we saw 28 species including a number of Bobolinks, a Yellow Warbler, Indigo Bunting, and an Eastern Bluebird.
Annual Meeting, May 9, 2018
Published on May 16, 2018 by Hal
In addition SOLF  announced the annual Elaine Beals Conservation Award to  be given to Carl Guyer for his efforts to protect the environment by  making Southborough a Green Community and encouraging recycling.  SOLF also recognized two Algonquin High School students, Shannon Provencal and Kathryn Gowdy, for their outstanding efforts in organizing Hike Southborough Day in September 2017.
May 6, 2018, Our First Summer Stroll
Published on May 15, 2018 by Hal
On Sunday evening, May 6,  eight enthusiastic people participated in the first in our series of "Summer Evening Strolls at the Beals Preserve."
It was cloudy with a few light sprinkles, but we had a group who clearly enjoyed the quiet calm of walking in the woods with a bit of rain.   Stay tuned!