Property Map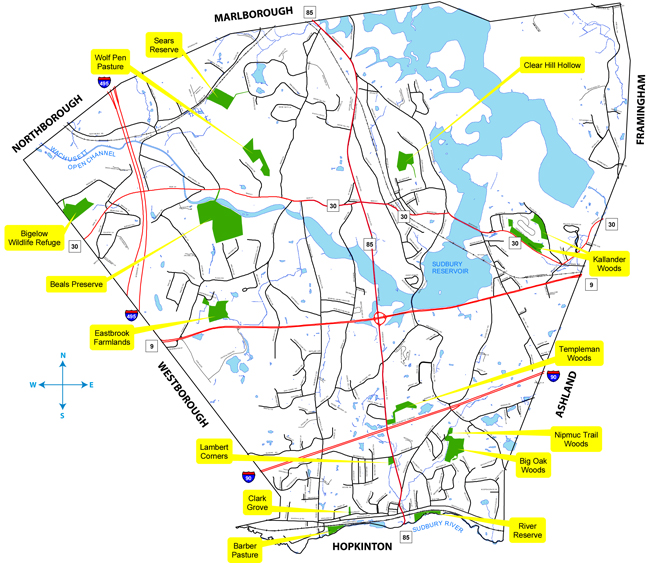 Barber Pasture, Bridge Street. 5.2 acres of meadow and wooded area along a riverside. Permission for access is required.
Beals Preserve Off Main Street. 58.5 acres of woodland, meadows, a pond and marshes, with hiking trails.
Big Oak Woods, Darlene Drive. 14.3 acres of uplands and wetland habitat with a stream. Some steep grades. Notable oak trees.
Bigelow Wildlife Refuge, Bigelow Road. Two properties containing 19.4 acres with an old farm road through woodland and wetlands. Part of a 2,225 acre open space network connecting to the Department of Conservation and Recreation property and the Sudbury Valley Trustees' Sawink Farm.
Clark Grove, Highland Street 0.7 acres of wooded area adjacent to the Southborough Center for the Arts.
Clear Hill Hollow, Hillside Avenue, 10.5 acres.
Eastbrook Farmlands, Eastbrook Farm Lane. Two properties with 14.6 acres of low-lying former field, which are mostly open with some wet areas.
Kallander Woods, Valley Road and Boston Road. Two hillside properties containing 18.3 acres with a mature stand of hardwoods and views of fields below. Valley Road parcel includes wetlands and a pool that provides a habitat for salamanders and frogs.
Lambert Corners, Corner of Richards and Cordaville Roads. 1.5 acres of wooded area with a stream.
Nipmuc Trail Woods, Brookside Road. 2.2 acres of a mix of uplands and a wetland habitat with a stream. Historic Nipmuc trail runs through property.
River Reserve Off Southville Road. 3.5 acres bordered by an old mill pond on the Sudbury River. Boat access only.
Sears Reserve, Presidential Drive. 14.3 acres of mainly wetlands with open valley views.
Templeman Woods, Cordaville Road. 8.2 acres of wooded upland area with glacial rock formations. Trail access crosses wetlands.
Wolf Pen Pasture Off Sears Road. 15.2 acres with a meadow, small pond, and a hayfield.
Lynbrook Hollow, off Lynbrook Road. 5.5 acres with a small brook. Future plans include developing trails on this property.