Nick Hills Eagle Scout Project at Beals Preserve
Published on June 3, 2016 by Hal
The Southborough Open Land Foundation congratulates Nick Hills of Southborough Boy Scout Troop 1 for achieving his Eagle Scout Rank on June 4, 2016. Nick's Eagle Scout Project was a trail renovation at Beals Preserve.  There was a serious erosion problem on the Old Farm Lane Trail at the Red Gate Lane entrance area.  During heavy rain storms, the water would overflow the storm drains at the cul de sac and pour down the trail, causing the trail to erode badly.  When Nick came to us looking for a project, we met with him to explain the problem and showed him the area of concern. He immediately demonstrated a grasp of the situation, asked pertinent questions, made several suggestions, and then forged ahead with the project.  Not only did he and members of the troop build the water breaks, but they also improved the small stone wall at the entrance area, enhancing the visual appearance. Nick showed understanding of the problem with which he was presented, initiative in trying to help solve it, and leadership in executing the project.  SOLF is grateful for Nick's work and congratulates him on achieving the rank of Eagle Scout.
Citizen Science: The SOLF Wildlife Survey at Beals Preserve, May 26, 2016, 7:00 PM, Southborough Library
Published on May 17, 2016 by Hal
Join SOLF Trustee and Wildlife Survey Coordinator Lawrence Spezzano for a discussion of the project. Click here for more details on the program. Thursday, May 26, 2016, Southborough Library, 7:00 PM.
Birdwalk at Beals Preserve, May 15, 2016
Published on May 16, 2016 by Hal
Jeff Collins from Mass Audubon led a birdwalk at Beals Preserve on a beautiful May morning, May 14, 2016. A large number of species, including a Red-winged Blackbird, European Starling, Barn Swallow,  Canada Goose and Goslings, Mallard Duck, Yellow Warbler, Warbling Vireo, American Goldfinch, Tree Swallow, Barn Swallow, Song Sparrow, Gray Catbird, Northern Rough-winged Swallow, Eastern Kingbird, Common Grackle, Great Blue Heron, Common Yellowthroat, Rose-breasted Grosbeak, Baltimore Oriole, Eastern Bluebird, Green Heron, Brown-headed Cowbird, Chipping Sparrow, Ovenbird, Pine Warbler, Tufted Titmouse, American Robin, Northern Mockingbird,  and Northern Flicker, were either heard or seen by members of the walk . Some photos of participants, and Beals Preserve taken by Doris Cahill are shown below.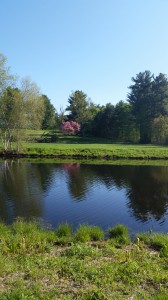 May 11, 2016, Annual Meeting: Wildlife Photographer Peter Christoph
Published on May 12, 2016 by Hal
The Southborough Open Land Foundation held its annual meeting on Wednesday, May 11, 2016, at the Southborough Community House, 28 Main Street, Southborough.  The meeting featured  wildlife photographer Peter Christoph,  a full-time wildlife photographer, speaker, and author from Lancaster, MA,  speaking  on Birds, The Epic Adventures of a Massachusetts Bird Photographer. His program was a narrated slide show of  his favorite bird photographs, all taken in Massachusetts. Peter also shared stories of his photographic adventures and the techniques he uses to capture his images as well as his favorite places to take photos of birds in their natural habitat.
Children's Program on Beavers and Their Habitat, Saturday April 2, 2016, Southborough Library, 2:00 PM
Published on April 4, 2016 by Hal
On Saturday, April 2, 2016, Lisa Carlin of Mass Audubon's Broad Meadow Brook Conservation Center and Wildlife Sanctuary will present a children's program on beavers and their habitat.  Children will  "create" their own beaver dam and/or lodge with playdough and pretzels. The presentation is at the  Southborough Library, 25 Main Street, Southborough, 2:00 PM. The program is free, but registration is required. Call the Library at (508) 485-5031 to register. The program is appropriate for children ages 5 to 9.
See a flyer for the program here.
This program is funded by a grant from the Southborough Community Fund (SCF), Foundation for Metrowest.
All About Beavers, February 23, 2016
Published on January 10, 2016 by Hal
On Tuesday, February 23, 2016, Mike Callahan of Beaver Solutions, LLC, Southampton, MA ,  discussed  solutions  open to us when beavers begin to affect our property. He discussed the importance of beavers in creating and maintaining wetlands. He indicated that beaver ponds influence water quality by storing water and slowly releasing it. This process allows suspended particles to settle  and detoxify many runoff toxins. Despite these benefits, however, there are often conflicts when beaver dams threaten homes or septic systems. Mike presented potential solutions to these conflicts including flow control devices to control flooding from beaver dams and trapping where necessary. You can watch the presentation here.
This program was funded by a grant to SOLF from the Southborough Community Fund (SCF), Foundation for Metrowest.
SOLF Receives Award From The Southborough Community Fund
Published on December 13, 2015 by Hal
The
Southborough Community Fund (SCF), Foundation for Metrowest
has awarded a generous grant to support an education program in 2016 which will help residents learn about the beneficial environmental impact of beavers and outline strategies for co-existing with the growing beaver population in the area. Please visit our
Upcoming Events
page for programs funded by this grant.
Carol Gay Leaves Board After 25 Years of Service
Published on June 3, 2015 by Hal
At its 2014 on May 27th annual meeting, SOLF thanked Carol Gay as she stepped down as a trustee of the Southborough Open Land Foundation after serving on the Board of Trustees for 25 years.  During that time she served as the vice-president and the treasurer of SOLF.  She also helped with the fundraising in 2005 to help pay for the conservation restriction that the town purchased on Chestnut Hill Farm in 2006.  Carol helped organize the dedication celebration of Beals Preserve in 2008 and SOLF's 25th Anniversary celebration in 2013.  She coordinated the Club Day events with Eastern Mountain Sports. She kept many records concerning SOLF and has always been ready to help the organization whether at SOLF's Heritage Day booth, at Riverfest, or other events.  Carol and her husband George demonstrated their dedication to the preservation of open space by placing a conservation restriction on 61 acres of their own property in 1991.  SOLF recognized Carol's dedication to conservation and open space by presenting her with the Elaine Beals Award in 2009.  The Board of Trustees will miss Carol's talents and hard work.
Annual Meeting, May 27, 2015, 7:00PM, Southborough Community House
Published on June 1, 2015 by Hal
SOLF held its annual meeting on May 27, 2015, at 7:00PM at the Southborough Community House, 28 Main Street, Southborough.  The speaker was Alexander Dunn from Mass Audubon and Trustees of Reservations discussing "Turkeys in Suburbia and Other Changes in Massachusetts Bird Life." 
In addition, the annual Elaine Beals Conservation Award was presented to Representative Carolyn Dykema for her leadership in environmental protection. This award is presented annually by SOLF  to a person who has worked to help protect the our environment.
Board member Carol Gay was also honored after leaving the board for many years of service to SOLF and the conservation community.
Wolverines by Rebecca Watters, April 16, 2015
Published on April 16, 2015 by Hal
Southborough native Rebecca Watters, an Algonquin Regional High School graduate,  shared her experiences doing research, both in the United States and Mongolia, on the elusive wolverine.  She was part of a 5 person team on a National Geographic sponsored research project that cross country skied through the remote Darhad region of Mongolia. Her talk explored the biology and ecology of wolverines, the critical questions of how to conserve climate sensitive wildlife, the adventures on skis, foot, and horseback that go with research efforts on a high-elevation species on two continents, and  what we can learn from scientific and conservation dialogue across cultures. You can read about her research and see photos of the expedition in this article from the Community Advocate.  A recording of the presentation is available here. This program was supported by a grant from the Southborough Community Fund.